More on my Garrett Hawke. Or as I like to call him Douchebag Hawke.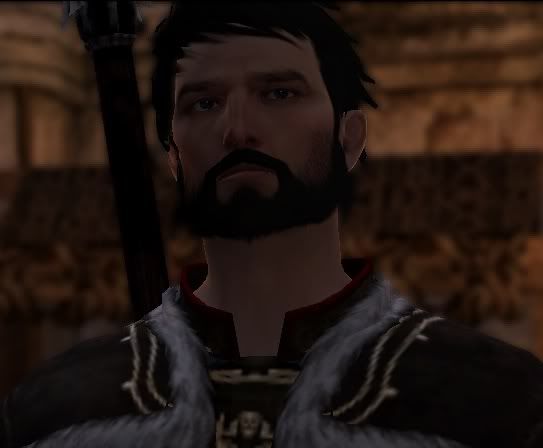 Aveline didn't like Garrett from day one when he was outright rude to Wesley and then took it upon himself to kill the Blighted Templar.
Upon arriving in Kirkwall Garrett decided his talents were better suited to working with smugglers and Athenril paid their way in.
One year later Garrett had a pretty bad reputation for his bad temper but everyone knew he got jobs done. That's probably why Varric sought him out for assistance with the expedition.
Garrett agreed and set out to make some money. However he remembered his promise to Flemeth and his first stop was Sundermount.
There Garrett met a sweet elf named Merrill, a fellow blood mage. Even Garrett couldn't be harsh with Merrill and he didn't disapprove of her use of blood magic. Merrill was soon on her way to being Garrett's first friend.
Carver managed to talk Garrett into helping him find their Grandparent's will. Truthfully Garrett did it being he liked the thought of being a noble and together they broke into the Amell estate.
It was during this break in that Garrett found some letters which indicated a friendship between his father and a Templar. Upon further investigation Garrett found Carver had been named after this Templar. He gave the letters to Carver, in an uncharacteristic show of brotherly love. The gesture still led to an argument between them but Garrett didn't give a shit.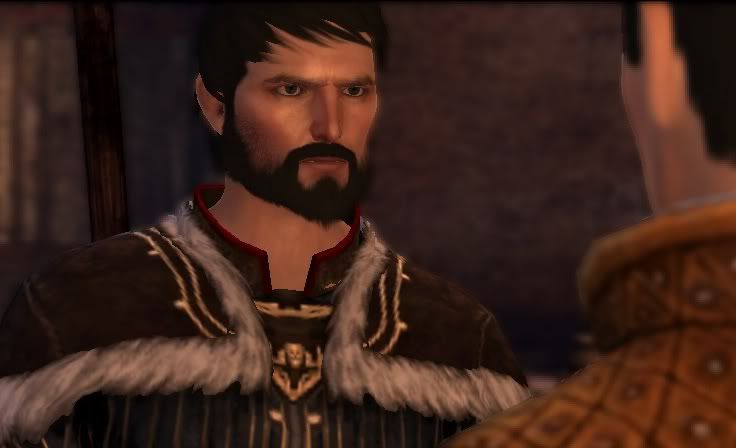 Taking on a job Garrett found himself ambushed by slavers who were after an escaped slave; Fenris. Garrett agreed to help Fenris go after his former master but the magister had left already. Fenris obviously had a problem with mages and Garrett immediately butted heads with the elf.
Following Varric's advice Garrett sought out a Grey Warden and met Anders. Anders had some maps of the deep roads and asked for Garrett's help in exchange. Garrett firmly believes in mage freedom and agreed. Unfortunately Anders had to kill his friend and Garrett was unusually sympathetic.
Garrett continued to try and raise money for his deep roads taking jobs where he could. He met a strange pirate woman, rescued an elf girl from a paedophile and even saved the Viscount's son from bounty hunters.
He even agreed to search for a man's wife who had gone missing. The search led him to the Blooming Rose, one of his favourite places in Kirkwall, where a horrified Carver and Aveline were forced to wait while Garrett enjoyed himself.
Garrett helped Aveline expose corruption in the guard and get promoted to Guard Captain. However he managed to piss her off when he told her to keep her new title in the office.
Continuing his quest for money Garrett was given two strange jobs. One was to find a young boy and give him over to the Circle. Garrett found Feynriel and couldn't hand him over to the Templars, instead agreeing to let him leave to find the Dalish.
The second strange job was to find a woman's brother, a young Templar recruit. Garrett found Keran and freed him from the hold of blood mages. This led to an argument in the Gallows with Knight Captain Cullen, much to Carver's dismay.
Garrett's final job was for a Sister Petrice. She wanted a Qunari mage escorting out of Kirkwall, however the whole job was a set up. After the mage had killed himself Garrett returned to threaten Petrice, telling her she had made an enemy.
Finally Garrett had enough money to go into the deep roads and took the money and map to Bartrand. Carver wanted to come but Garrett ordered him to stay home. He didn't want or need Carver and knew it was piss off his younger brother to have to stay behind.
Garrett entered the deep roads with Varric, Merrill and Isabela. After Bartrand betrayed them, the group found a demon and made a deal in order to find a way out. In the end treasure was found, no one died and that's good enough for Garrett Hawke.
When he returned to Kirkwall Garrett found Carver leaving to join the Templars. Garrett, of course, took it personally and thought Carver was doing it to spite him. After threatening Carver to keep his mouth shut about Garrett being an apostate, Garrett let him go.